Why:
Advantages include motivation to solve a problem or to resolve a conflict for the character, providing a new perspective through which students can explore or understand an issue and the development of skills, such as writing, leadership, coordination, collaboration and research.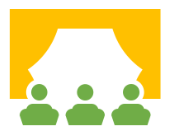 How:
Members of the class take the part or perspective of historical figures, authors, or other characters and must interact from their perspective.
Breakdown the role play into specific tasks to keep students organized and to structure them so that the content you want to cover is addressed.
Preparation work can be assigned for outside of class, so clearly communicating your expectations is essential.